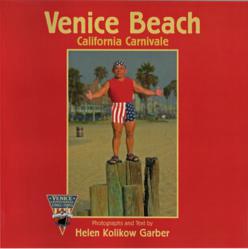 Venice, CA (PRWEB) June 14, 2013
We are pleased to announce that Venice Beach, California Carnivale is now available as a downloadable E-Book. The print edition paperback was the first print-on-demand picture book sold by Barnes and Noble, was the official commemorative book of the Venice Centennial and won an International Photography Award when first published in 2005.
Venice Beach, California Carnivale captures the joyous carnival atmosphere of Ocean Front Walk at world famous Venice Beach. Helen K. Garber, internationally renowned fine art photographer, has digitally captured, color enhanced and manipulated the images to give the viewer the full surreal experience of strolling along Ocean Front Walk at Venice Beach, California.