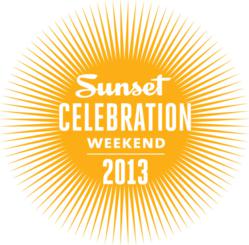 Menlo Park, CA (PRWEB) May 03, 2013
On June 1st & 2nd, tens of thousands of Sunset fans will join the magazines editors, celebrity chefs and renowned experts in Menlo Park for Sunset Celebration Weekend 2013: Why We Love the West. At what has become one of the regions most anticipated summertime traditions, Sunset, the leading lifestyle brand in the West, will open its beautiful seven-acre Menlo Park campus to celebrate the freshest flavors, home and garden ideas, and travel inspiration that the West has to offer.
Join Sunset editors, celebrity chefs, such as Fabio Viviani and Susan Feniger, and other featured presenters from the worlds of food, wine, travel, garden and home as they share tips, tastings, demonstrations and inspiration that show off why we love the West. Complete stage schedules can be found at http://www.sunset.com/cw.
This will be my first Celebration Weekend as editor-in-chief and I am so excited to have the chance to meet our readers face-to-face while celebrating all the reasons we love the West, said Peggy Northrop, who joined Sunset as editor-in-chief on April 22. This is an amazing opportunity to see, taste and experience the magic that Sunset packs into its pages all year long. It really is like walking into a Sunset story.
Featured exhibits include:
Design Destination: Reimagining the Sunset Home
Every year Sunset creates a destination devoted entirely to design lovers, who make the annual pilgrimage to discover the latest trends in home. This year's special feature Reimagining the Sunset Home draws inspiration from the vintage pages of Sunset, where the Wests warm modern design aesthetic was born more than a half century ago. Join in as 5-under-35 up-and-coming designers from around the West create trendsetting spaces inspired by actual Sunset home pictorials from the 1940s through 1980s. Walk through the living, dining, kitchen, master bedroom and play room that will make up the 4,000-square-foot exhibit space to discover inspiring ideas for todays homes. The Reimagining the Sunset Home team of designers includes: