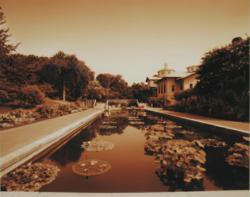 New York, NY (PRWEB) March 26, 2013
Photographer Ellen Fisch finds constant sources of inspiration for her architectural art photography in her home-town of Brooklyn, NYC. Park Slope/ Prospect Park, Fischs recent highly successful exhibition at Jadite Galleries in newly fashionable Hells Kitchen in midtown Manhattan, showcased one photograph of the Lily Pool Terrace which is a main attraction at the Gardens. The Brooklyn Botanic Gardens is the perfect subject to continue developing the unique art form that I created by printing my photographs on fine art paper and drawing into them with charcoal and chalk and subtly using gold leaf to accent the architectural themes. Fisch notes that her current work is distinguished from mixed media photography in that few realize that the photographs have been hand finished. The art elements mesh to create a seamless image that presents the viewer with a recognizable place from the perspective of the photographer/artist. A review of the exhibit called the photographs a Dream World.
When photographing Park Slope and Prospect Park for the 7 week February/March exhibit, Fisch was drawn to the Brooklyn Botanic Gardens much the same way the oasis in Brooklyn drew her as a child. Gardens have a special enchantment, says Fisch. To see plants and flowers growing in a serene place offers tranquility amid the hectic everyday life in which we live. The recent photo shoots in Brooklyn were frequently crowned by a walk in some area of the Brooklyn Botanic Gardens. Fisch found numerous paths, walkways and grassy places to reflect about her upcoming show and to contemplate her next round of photographic focus.
The sepia and black and white architectural art photographs which Photographer Ellen Fisch is well known for always seek to incorporate some aspect of the place in which they are photographed. Her Harlem photographs showcased recognizable and iconic landmarks as well as buildings specific to that community. I enjoyed relating the elements of the area within each photograph so that the series wove a story of Harlem. Moreover, each photograph could be distinct in its own right. She has fashioned architectural art photography essays of many places, such as Coney Island, Newport RI and Wall Street/ the financial district of NYC using the places and sepia and black and white photography as underlying themes to present a concept of a specific place to the viewer.