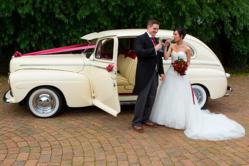 London (PRWEB) May 29, 2013
Wedding photographer Peter Bur has recently launched a wedding photography service for clients in and around London. As a versatile and creative photographer coming from a traditional darkroom, film and print background, he makes use of high end digital cameras to capture unique wedding photographs that can be cherished for life.
Wedding photography is a matter of art and passion. This is why most couples go with the photographers who really have a knack of capturing captivating pictures of private and lovely moments on their wedding day. Peter Bur recently announced his wedding photography services for customers who are getting married in and around the London area.
Coming from a photography and film background, Peter understands the various precious moments that couples have during a wedding and captures them with some of the very best digital cameras available.
Peter emphasizes that he strives hard to capture every beautiful moment during the special day, without being obtrusive to the intimacy of the couple. He explained – My reportage photography approach to your wedding day means that I work as unobtrusively as possible, capturing the fun, joy and emotions of the day as it unfolds, without taking over.
Some of the features included in the services are a complete days photography starting with preparation of the bride. Peter also likes to organize a pre-wedding meeting to discuss all the arrangements of the wedding day and get acquainted with the process.
After the wedding, clients are given a secure online gallery for all of the photographs which have been taken and given the choice of buying the prints of the ones they like the best. Finally, Peter sits with his clients and makes a list of the best 150 pictures that can be put into a DVD.
Talking more about the services that he offers, Peter said – I also recommend a pre-wedding photo shoot too. Its an opportunity to have a bit of fun and get acquainted before the big day. I can help with the planning and timings of your wedding photography to ensure everything fits in smoothly without being rushed or too drawn out.
All of the clients favorite images can be printed on high quality photographic paper and packed into an album, with different looks and styles for available at various prices. For high quality wedding photography memoirs, Peter also recommends selecting a traditional wedding album so that all those fond memories are stored safely for whenever you want to relive those special moments.
About the Company

Peter Bur is a professional wedding photographer who offers his services to customers in London and nearby regions. Peter comes from a film, print and darkroom background and this gives him an edge while shooting unique and captivating wedding photographs.
To find out more about the wedding photography services offered by Peter, visit http://peterburweddingphotography.co.uk