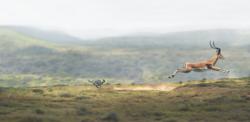 New York, NY (PRWEB) May 16, 2013
PDN is proud to announce the award winners for this year's Photo Annual competition, which recognizes the best photography from 2012. Now in its 13th year, the PDN Photography Annual issue features an extensive portfolio of photography in ten different categories, ranging from editorial assignments, photojournalism, portraiture and advertising to photo books, student work and fine art. Additionally, six awards are presented to photographers who are selected to be in the Photo Annual, including the Arnold Newman Prize for New Directions in Photographic Portraiture and the Marty Forscher Fellowship, which recognize photographers following in the footsteps of two photo industry legends. The PDN Photo Annual has become an annual celebration of innovative photography and talented photographers, with collaborative support from industry leaders including Sony, Parsons The New School for Design, Adobe, Epson, Maine Media Workshops and ASMP.
"Each year we are blown away with the quality of work being produced by photographers, and we continue to be inspired and deeply encouraged by the level of creativity we see in the entries," explains Lauren Wendle, vice president & publisher of the Nielsen Photo Group. "The PDN Photo Annual has become a celebration of today's image makers that has been embraced and supported by the entire industry."
More than 22 judges all of whom are renowned in their respective fields of photography adjudicated this year's competition, sorting through thousands of entries from all over the world before selecting this year's winners. Judges for the 2013 PDN Photo Annual included Natalie Matutshovsky (Time), Paula Tognarelli (Griffin Museum of Photography), Shannon Simon (Interview), Ken Kwok (Los Angeles Times), Jon Jones (Sunday Times Magazine), Ana Dickson (Huffington Post) and Cameron Barnum (BBDO)
In addition to the winners of the 10 categories celebrating every genre of photography and video, which are all included in the June 2013 issue of PDN (now available on newsstands) as well as in the online gallery, the following awards are being presented to photographers who are included in the Photo Annual:
The Arnold Newman Prize for New Directions in Photographic Portraiture

Named after the legendary photographer and "Father of the Environmental Portrait," this award recognizes photographers who are creating works that echo Arnold Newmans iconic style of portraiture. Wayne Lawrence is this year's winner and will receive a $ 15,000 cash prize and an exhibition at PhoPa Gallery in Portland, Maine.
Marty Forscher Fellowship

This award recognizes students and emerging professionals who have outstanding achievements in humanistic photography. Lisa Wiltse is this years professional award winner and will receive a $ 3,000 cash prize; Eugenijus Bardius from the University of Wales, Newport, South Wales, is the student award winner and will receive a $ 1,500 cash prize.
Adobe Breakthrough Photography Award

George Logan is the recipient of this award, which celebrates artists who create compelling works through digital imaging. Logan will receive a $ 1,000 cash prize and a 12-month subscription to the Adobe