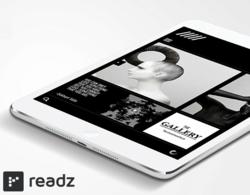 Los Angeles, CA (PRWEB) April 18, 2013
Top brands and marketing teams struggling to stay relevant as their audiences migrate to multiple mobile devices now have access to a unique, all-device publishing solution.
Readz, based in Los Angeles, CA and UK-based DigitalPC has joined expertise to enable marketing teams to easily create magazine apps of blog and Web content, as well as print content, including brochures, PDFs, publications, sales & marketing literature and product catalogs.
About DigitalPC
DigitalPC is the go-to partner for more than 200 publishers and brands looking to create or improve their presence on mobile and tablets. The publishing strategy company helps publishers, membership organizations and businesses turn printed communications into digital editions, saving money and increasing reader engagement.
We are excited to partner with Readz because they offer our customers a key strategic advantage, says DigitalPC owner Graham Duffill. The Readz publishing platform has already anticipated the next step in digital publishing evolution. It has moved on from legacy print layout and lets customers create magazine-style apps that offer a seamless, flip-style reading experience from content pulled from any source – especially the website.
I believe that the more web-centric and data-oriented things become, the more platforms like Readz are essential tools to enable us to provide readers with a distilled, edited and colorful reading experience, added Duffill, a former News Editor of The Times and Online Editor of The Sunday Times. There is nothing less engaging than a stream of raw information. Just log in to Readz and editors, designers and brand-owners can publish in real-time to beautifully designed, light-weight app editions run from their readers tablet homepage.
DigitalPC – known for their customer dedication and high level of technical specialization – counts top brands such as the global reinsurance company GenRe, Euromoney Institutional Investor, Times Educational Supplements, The Royal Society of Chemistry, The Institute of Physics and the Royal Pharmaceutical Society among its customers.
Fast and Easy for Clients
Since the Readz publishing platform removes coding or development steps for the user, the creation process is quick. DigitalPC client ArtBanc – a safeguard services provider in the fine art world developed their magazine-style mobile content in a matter of days, rather than months or weeks.
Readz Goals : Direct Publishing For All, Web Discovery, Next-Stage Social
Another major benefit for marketers and content managers is the ability to publish and update their Web magazine directly. Third-party approvals or mobile app stores that often insist on fees are by-passed, according to Readz CEO and founder Bart De Pelsmaeker. This approach adds Web discovery to the content app the opportunity for larger audiences to find the mobile content. For example, a company can add it to their website, or promote it online. They do not have to send their audience to a store to find it.
DigitalPCs clients now have direct access to all Readz publishing tools, including themes professionally-created layout designs customizable article and content templates, content organization structure, stunning cover pages, direct publishing and update functions, and the ability to include social sharing and communities, a promising new feature that will expand the emerging concept of sales-generating micro-influencers.
Web Magazines and Newsletters with Readz
With the growing popularity of HTML5 applications, Web magazines and newsletters like those produced on the Readz platform are becoming more demanded for their flexibility. Web magazines and newsletters are also easy to distribute, consume and share. Along with build, layout and publishing tools, Readz also offers hosting and analytics, enabling brands to monitor downloads and traffic.