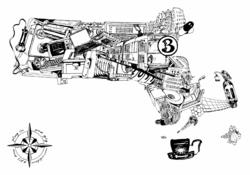 Boston, MA (PRWEB) April 03, 2013
The Commonwealth of Massachusetts is renowned for leading the country in progressive ideas and innovation. The Boston-based apparel, art and accessories company, OneGig Co., hallmarked these tributes in their homage to Massachusetts when they launched Americas Technology Highway, a hand-drawn masterpiece of the state of Massachusetts, embellished with its entire world changing inventions including the telephone, the Internet, and the first subway system in the nation. This original artwork is silk-screened on fine French Paper. The French family established this 6th generation owned mill in 1871 in Niles, Michigan. It is one of the last, small independent mills in America and pioneers of recycled paper manufacturing.
OneGig is a team of creative thinkers and designers with a mission to develop designs and experiences that represent the diverse voices, stories and spirits of urbanites in global communities, under a united voice and a singular identity," said Ferguson Herivaux, Chief Executive Officer, at OneGig. Mr. Herivaux is the principal of Ferguson ET Co., a long established marketing and event promotions company, in Boston, and the former owner of M & Co., in Boston, a fashion and jewelry store specializing in custom luxury goods.
The original artwork Americas Technology Highway, will only be available online at http://www.onegigco.com, and represents the companys philosophy of promoting unity and lifting spirits in the community through modern art. The launch of Americas Technology Highway will mark OneGigs campaign of unity and awareness through the medium of art, and will be followed up by a series of new and original designs. Mr. Herivaux stated, Our mission is for our creations to spark a fire and open windows to possibilities, which, may counter the intense negativity that people around the world are suffering from today. The art campaign reflects the mission of OneGig and The idea that positive messages can engender positive response.
The OneGig Co brand is where music and art meet to create an empowering impact on our local and global community through innovation and the use of technology, thus creating new economic opportunities.
The company is launching a multimedia event in May to display Americas Technology Highway as well as other artworks, including paintings and photography from a wide range of artists with whom they collaborate. There will be live performances by some of Bostons best recording artists and dancers, as well as an electrifying digital lighting installation.
Related Digital Art Paper Press Releases