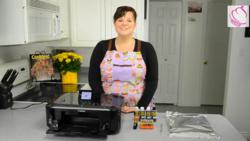 Winchester, VA (PRWEB) April 30, 2013
Cookies, Cupcakes and Cardio has produced three new videos to educate sugar artists on how to work with Icing Images products for edible image printing as well as decorating with the edible images.
Cookies, Cupcakes and Cardio's Jenn Johns along with her partner Paul Dalcanale who does all the filming, editing and producing of the videos, are out of Cranbrook, BC Canada.
"We feel Icing Images produces quality products and we have been using their edible inks and icing sheets for a number of years with successful results so we knew the viewers of our videos would get the same results." said Johns.
The video series starts with Edible Printing 101. This video walks through the in's and out's of edible image printing using an edible image system, edible inks and icing sheets. Viewers are versed on what equipment is best for edible image printing, how to install the edible ink cartridges, and how the icing sheets work in the printer.
Edible Printing: Layout and Design is the second video in the series and gives instruction on laying out pictures and designs to print on icing sheets. Johns demonstrates how to lay out pictures in Adobe Photoshop in preparation for edible printing. Johns also demonstrates how to use iiPrint from Icing Images, an on-line template printing feature that allows sugar artists to upload images and print them without having to install and learn any image printing software. iiPrint is free for Icing Images customers. The popular iiDesigns program from Icing Images, an online subscription program that gives sugar artists access to thousands of designs licensed for edible use, is also demonstrated.
Third in the series is a video called Butterfly Cake with Frosting Sheets, where Johns demonstrates how to decorate a cake using the edible images printed on the Premium Icing Sheets from Icing Images.
"We are delighted with the videos done by Cookies, Cupcakes and Cardio. We believe they give viewers a great snapshot of how they can be successful with edible printing and edible paper art using our products." said Debbie Coughlin, owner of Icing Images.
Watch the three videos at http://www.icingimages.com/edible-image-videos
Icing Images has been a leading distributor of edible image and edible paper art supplies for over a decade. Edible image supplies such as edible image printers, edible ink, icing sheets, and electronic cutters are used by cake and confection decorators throughout the world.