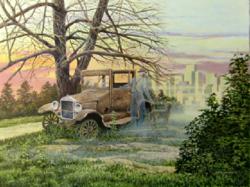 Toronto, Ontario (PRWEB) November 20, 2012
Model T car prints by James Lumbers – new release Dawn of a New Day collector Model T car prints is now for sale online. In commemoration of the Ford model T car, this new Model T Car prints is a new release to the public and is now available online for purchase at Miroarts Publishing. The Model T car original painting has been reproduced into signed & numbered Model T car giclee prints by Miroarts Publishing Inc. the exclusive publisher & distributor of James Lumbers artwork. Dawn of a New Day Model T collector prints is also available at authorized galleries/art dealers. Contact Miroarts Publishing to find out which art galleries are authorized dealers for the Model T car prints.
When Henry Ford produced the first Model T car Ford in 1908 it became known as the "Tin Lizzie" its production continued until 1927. In that period of time the model T car changed transportation forever. The Model T car was the first mass produced automobile, making it affordable for the average family.
Model T Car Print & History Video
The inspiration for this Model T Car prints "Dawn of a New Day" happened one afternoon when Model T artist James Lumbers, walking down an overgrown trail in the woods, stumbled upon the remains of an old Model T car slowly decaying in the vegetation that encompassed it.
Having a passion for doing paintings that relate the past with the present, this was too good to resist. Back in his studio, Model T artist James Lumbers penciled an idea of the Model T car on paper and then proceeded to paint some colour into the Model T car sketch. A neighbour posed for the figure of the old man who added a human element to the composition. The theme of the Model T car print is not new, but needs telling again as we witness the dawn of a new day developing all around us. View the evolution of the Model T car painting
Henry Ford said "To see a thing clearly in the mind makes it begin to take form". This was evident as Model T artist James Lumbers was inspired to create this painting when he found the remains of a Ford Model T car abandoned and decaying on a trail in the woods.
The Model T Car prints is a blend of yesterday and today. He added the spectral image an old man standing by his Ford Model T car to give humanity to the scene in the past as he peers across a river at today's metropolis, where his farm once existed. There is a message here as there are in many of Lumbers paintings displaying how our world is ever changing in so many ways.
About Canadian Painter James Lumbers
Long recognized as an artist who blends the past with the reality of today, model T artist James Lumbers creations are in demand from all levels of society offering visual images to see ourselves in a unique perspective.
About Miroarts Publishing Inc.
About MiroArts Publishing Inc, founded in 2008, the company's mission is to provide art collectors quality limited edition fine art canvas & paper giclee prints online. All giclee prints are signed & numbered by Miroarts Publishing list of exclusive established & emerging artists. Art lovers & model t enthusiasts can purchase collector Model T car prints trusting that they are produced of the highest quality giclee and signed & numbered by James Lumbers. MiroArts Publishing is privately held company headquartered in Toronto, Canada.
For more information on MiroArts Publishing & the represented artists, please call 416.840.0541 or visit Miroarts Publishing website.