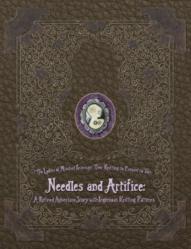 SEATTLE (PRWEB) January 18, 2013
SEATTLE What do you get when you cross a steampunk science fiction story and high-quality kitting patterns?
Needles and Artifice.
Written by the Ladies of Mischief, a group of ladies who are part of the same knitting group in Seattle, Capitol Hill Knitters of Doom, the book features 23 unique knitting patterns with full color illustration and photographs that accompany a fascinating adventure spread throughout its 236 pages and five chapters.
The story uniquely engages readers to explore whats behind the outstanding photography and knitting designs created by the Ladies of Mischief with a novelette in each of the five chapters: Mechanical, Boudoir, Airship, Countryside, High Society and Mad Science. The chapters features the corresponding knitting designs featured throughout.
Two years ago we started to create a knitting pattern book with the goal- aside from making something we all could be proud of- of making the type of pattern book we'd like to buy ourselves, said Nicole Allin, an award-winning Seattle freelance illustrator and member of the Ladies of Mischief.
Published by Cooperative Press and released in October, the book has received outstanding reviews around the knitting community. From the knitting styles and fashion, to the photography and the steampunk story-telling, the book has received praise beyond what the Ladies of Mischief have ever imagined.
I will say that the book has definitely surpassed our expectations, Allin said. When we started out it was a project of love — a 'Well, let's see if we can do this thing' situation. All we really wanted was to turn out a book we could all really be proud of and hope that a few other people might like it as much as we did. And now we've gotten so much positive feedback — and so many good reviews.
We're thrilled that it's been so well received.
The book is available on Cooperative Press in both print and digital copies for $ 29.95.