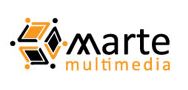 New York, NY (PRWEB) May 17, 2013
Marte Multimedia showcased its newest marketing line at the New York Small Business Expo. The company, available at http://www.MarteMultimedia.com, was a silver sponsor of the expo and featured world-renowned graffiti artist Sen2, whose customized designs demonstrate the breadth of creativity Marte Multimedia and this newfound partnership offer to trade show attendees, whether they are a startup or firmly established business.
We were excited to be part of this years expo and support New York small businesses. At Marte Multimedia we know that brand development is immensely important in this industry, and so we felt it was necessary to participate in the Small Business Expo. After all, the Small Business Expo has become a prominent part of the small business community because it brings owners and executives to products and services that can help their business grow, said Anneris Marte, CEO of Marte Multimedia.
Marte Multimedia is a marketing firm based in New York City that provides promotional solutions and cultivates iconic corporate images to clients across the United States. Marte Multimedia offers everything from branding to custom printing and graphic designs to web design and development. The company utilizes an efficient, collaborative team delivery system that allows for superior levels of service.
Trade show attendees were treated to a customized New York-themed step and repeat backdrop at the Marte Multimedia booth where they could get their picture taken. The company also handed out 1,000 bags customized by Sen2 with messages of Dream Big, Dare, Create Because you make a difference, which reflect Marte Multimedias business philosophy. Attendees can visit Marte Multimedias website to order other custom step and repeat backdrops, logos, and other designs.
Sandro Figueroa (aka Sen2) was born in Puerto Rico and has been an avid graffiti artist for 27 years. Relocating to the Bronx in the late 80s, Sen2 was a part of the Street Artist movement that helped shape the Hip-Hop industry and has since watched graffiti art rise, fall, and rise again. Unrelenting with his passion, Sen2 is now leading the movement into galleries and international art exhibits, proving there is no limit to where creativity can go. His artwork has been featured at the Smithsonian, at the Volkinger Hutte Urban Art Biennale 2013 in Germany, and at Miami Art Basel. Graffiti writing is all about self-expression without boundaries and Sen2 will always be looking for the next cutting-edge platform.
To learn more about Small Business Expos upcoming trade shows, visit http://www.TheSmallBusinessExpo.com. To find out more about Marte Multimedia visit it online at http://www.MarteMultimedia.com or find it on Facebook at http://www.facebook.com/MarteMultimediaNYC.