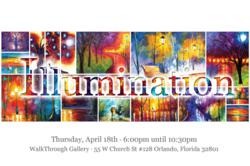 Orlando, Florida (PRWEB) April 02, 2013
Jessilyn Park is still relatively new to the art scene. She just began painting less than a 16 months ago and has already been offered gallery space for a solo show. Walk Through Gallery, located at the bottom of 55 W right next to Urban Flats on Church Street, will be hosting Ms. Park's artwork for a period of two weeks.
The opening reception will be held April 18th from 6 p.m.-10 p.m. There she will unveil her latest works. Her first solo show is called "Illumination: A Journey of Enlightenment and Passion." Since she began painting, Jessilyn has been drawn to painting in bright, unadulterated colors usually capturing some sort of light source. Whether it be from the moon, sun, lamps or merely reflections, light is almost always seen in her paintings. Her journey of enlightenment and passion began the moment she picked up the paintbrush for the first time.
She would post her paintings on Facebook and they would typically sell right away. She took that as a sign and flew to Mexico to train with world renowned Russian Impressionist artist Leonid Afremov to learn the palette knife technique. Since returning from Mexico, her life changed dramatically.
Her art took off and began to gain notoriety. She began participating in Juried Art Shows across the state of Florida. She won an Award of Excellence in the Clermont Art Festival and 3rd Place in the Painting Category at the Englewood Fine Art Festival. Magazines began to take notice and she was published in several magazines, one including the October edition of Orlando Home & Leisure.
In October of 2012, she quit her corporate job to become a full time artist. She hasn't looked back since. "Yes, the last year has definitely been a ride to remember." Park said when asked about her transition from corporate world to artist. "It's scary at times, but so far I'm enjoying every minute. I love waking up and getting to do what I love. I know that if I didn't take the chance now, I'd always look back with regret."
You can see her show Illumination on April 18th-May 2nd at Walk Through Gallery. The first 25 people to show up will receive a signed 8×10 museum quality giclee print.
Walk Through Gallery

55 W Church Street

Suite 128

Orlando, FL 32801