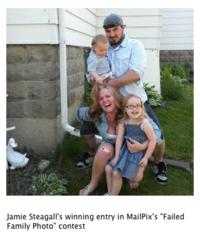 Huntington Beach, Calif. (PRWEB) January 18, 2013
MailPix.com, the newest online photo-printing site, announced Jamie Steagall was the winner of its $ 500 Failed Family Photos photo contest conducted on its Facebook page.
We appreciate all of the entries in our Failed Family Photos contest, says Fred H. Lerner, president and CEO, MailPix Inc. While looking through all of these great memories, it was heartwarming to see so many special moments shared with our Facebook community. Really, any time families get together to share good times, it cant be called a fail.
About MailPix

Founded in 2012, MailPix.com is the pre-eminent site for preserving photo memories as photo books, prints, cards, enlargements and other tangible products. The goal of MailPix is to keep costs low and to pass savings along to consumers. The MailPix site uses the latest technologies to compete head-to-head with established companies in the $ 2 billion photo personalization market. Featuring industry-leading Facebook and Instagram integration, MailPix is poised to help consumers make photo memories from the more than 70 percent of Facebook posts containing images.
Founder and CEO Fred H. Lerner has had a long photo-industry career including executive roles with Eastman Kodak, Berkey Film Processing, Qualex Inc., Lerner Processing Labs and Ritz Interactive. The MailPix board of advisors includes James Joaquin of Catamount Ventures, formerly president and CEO of Ofoto; Ted McGrath former President of Fujifilm, USA and General Manager of Kodaks Consumer Imaging Division; Gary Pageau, of InfoCircle and former Publisher, Content Development and Strategic Initiatives at Photo Marketing Association International; William A. Roskin, board member of Martha Stewart Living Omnimedia, Inc. and is the former Executive Vice President of Viacom, Inc.; Oscar B. (Bud) Marx III, chairman of Amerigon and is the former President & General Manager, Ford of Mexico and CFO of Ford, Europe; Bruce Charles, a founder of the law firm, Charles, Kane & Dye LLP; Gary Kramer, the founder and a co-managing partner of Kramer & Olsen Accountancy Corp.; and Peter Tahmin, an advisor to Powsumer.com and former vice president, RitzPix.com.