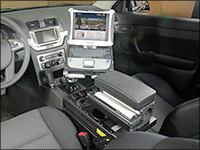 WARMINSTER, Pa. (PRWEB) January 30, 2013
The start of the new year is a great time for businesses to refresh company-wide policies regarding fleet safety, current technology trends and distraction-free driving. Havis Inc. compiled a list of tips that highlight trends and advise businesses on how to improve safety and increase productivity in the field.
Support Distraction-Free Driving
Make employee and public safety a priority with a distracted driving policy. Distraction-free driving lowers the risk of an accident as well as other traffic violations. In addition to a policy, businesses should ensure that fleets are equipped with vehicle and computer mounts that reduce distractions on the road and aid drivers in focusing on their work when safely parked. For example, Havis vehicle consoles provide familiar, easy access to radios, emergency lighting controls and communications equipment to help drivers keep their eyes on the road.
Improve Connectivity and Uptime
Mobile workers are highly dependent upon technology to stay productive, so its important to select reliable hardware, software and accessories. Remote technology issues can cause employee downtime, and may require travel back to an office or station for resolution. In order to minimize downtime, businesses should select high-quality, dependable computing solutions. Rugged laptops and tablets by Panasonic and Dell combine high performance with extreme durability to keep mobile professionals up and running in just about any environment. Havis works closely with Panasonic and Dell to build compatible docking stations that are thoroughly tested to withstand tough mobile environments, and provide secure connection to essential peripherals, such as printers, barcode scanners and keyboards.
Prevent Dead Batteries
Vehicles are at a greater risk for a dead battery during the harsh winter months. Falling temperatures diminish a battery's electrical capacity and increase the amount of power the battery needs to crank the engine. Auto shut-off timers, like Havis ChargeGuard