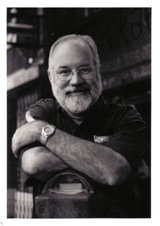 Los Angeles, CA (PRWEB) January 30, 2013
Father Gregory Boyle will share stories and participate in an intimate conversation at the Ben Maltz Gallery/Otis College of Art and Design on February 9, 2013 from 11:00 AM – 12:00 PM.
Homeboy Industries, founded by Father Gregory Boyle, is now the largest gang intervention, re-hab and re-entry program in the United States. Father Boyle was born in Los Angeles and is the author of the New York Times bestselling book, Tattoos on the Heart: The Power of Boundless Compassion. He has received numerous honorary degrees, awards and recognitions including the Civic Medal of Honor, the California Peace Prize, Humanitarian of the Year from "Bon Appetit" Magazine, and in 2011 was inducted into the California Hall of Fame.
Otis College of Art and Designs Ben Maltz Gallery exhibition, "Bridging Homeboy Industries: Fabian Debora, Alex Kizu, and Juan Carlos Mu