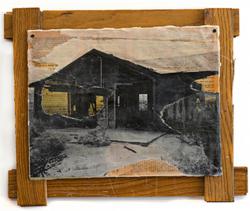 Venice, CA (PRWEB) April 05, 2013
Helen K. Garber announces the unveiling of new photo-based mixed media works as part of ONE SHOT: [SPACES] Inside, Outside and the Space Between: which opened on Saturday night, March 30 at The Loft at Lizs gallery as part of the fifth annual Month of Photography Los Angeles. The exhibit runs until May 6, 2013. The gallery is located at 453 S. La Brea Avenue, Los Angeles, CA 90036. Contact information: (323) 939-4403 ext. 6, email: randi(at)theloftatlizs(dot)com.
Inspired by the theme, curator Liz Gordon offers a look beyond the physicality of spaces. Ms. Gordon chose work from two of Ms. Garbers already existing series, Conjuring Abbot Kinney and Santa Monica Waves. Ms. Gordon also commissioned eleven new works from Ms. Garbers latest series, Roadside Ruins, where she has documented old ruins of hotels, motels, cafes and homes along the off-beaten path of secondary roads.
What once seemed a grand idea turns into a nightmare and then is quickly abandoned at a distant past moment in time.
Ms. Garber takes her photo-based mixed media work to the next level with her eerie new surrealistic series, Roadside Ruins. Using encaustic medium to allow multiple layers, Ms. Garber includes her images printed on handmade paper, book pages from her childhood copy of Rod Serling's Stories from the Twilight Zone and found building materials from her neighborhood, the Ocean Park historic district of Santa Monica, CA.
She uses her skills learned as a theatrical scene designer to incorporate the materials and illustrate two perspectives of one view. Looking inside/outside simultaneously. As with her multi media presentation, Urban Noir: LA/NY and then continuing with Encaustic Noir, Ms. Garber combines her images with text from her beloved childhood paperbacks, but changes the rules to present in a new way.
The main gallery will feature works from other top photographers including: Mark Steven Greenfield, Louis Jacinto, Ave Pildas, Franklin Londin and Clayton Campbell. The Loft at Lizs Projects Room will showcase winning entries from the IPA (Intl Photography Awards) annual ONE SHOT competition. The founder of the Lucie Foundation, Hossein Farmani and Executive Producer Cat Jimenez conceived the Month of Photography, Los Angeles in 2008. Ms. Garber is on the Photographers Advisory Board of the Lucie Foundation, producer of IPA and MOPLA and has participated in all of the past four annual events.
Ms. Garbers series, LA Noir was included in the inaugural MOPLA opening night projections, her multi-artist directed photographic installations, An Intimate View of Los Angeles Group LA 2008 and An Intimate View of Southern California, Group SC 2009 both premiered at MOPLA and she exhibited new work at last years group installation, One Shot, the City at the Loft at Lizs.
The Loft at Lizs gallery offers thematically curated exhibitions from both emerging and established artists, embracing nearly all mediums and visual styles. Among the many artists featured in past exhibition are: Ed Ruscha, John Baldessari, Chris Burden, Lita Albuquerque, Ken Price, Nancy Rubins, Ed Moses and Charles Arnoldi.