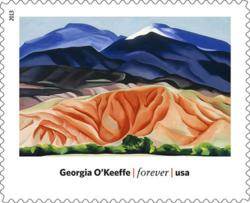 Santa Fe, New Mexico (PRWEB) April 12, 2013
FOR IMMEDIATE RELEASE April 11, 2013Santa Fe, New Mexico The Georgia OKeeffe Museum announces that the Georgia OKeeffe painting entitled Black Mesa Landscape, New Mexico/Out Back of Maries II, 1930 is part of a brand new series of stamps issued in March by the United States Postal Service featuring the work of twelve important American modern artists. A treasure of the Georgia OKeeffe Museum, the painting will be installed and unveiled in the first gallery of the Museum on April 19 at 10:00 am in a free event to commemorate the honor; Rob Kret, director of the OKeeffe Museum, Carolyn Kastner, curator, and Erik Setter, USPS representative will all speak. (To RSVP to attend the unveiling, email lisa(at)jlhmedia(dot)com)
The Modern Art in America, 1913 – 1931 stamps and their artists were honored at a ceremony with USPS and Armory officials in New York on March 7, taking place one hundred years after the first Armory Show, a groundbreaking international exhibition, which offered many a first look at modern art.
We are very honored to have the work of OKeeffe as part of this important series of stamps honoring Modern American artists, said Kret. We are looking forward to showing off this vibrant painting and think it will be a fine addition to the mail crisscrossing our nation each day.
The Postal Service began issuing postage stamps more than 150 years ago and we understand the power in these miniature works of art to celebrate American heritage history and culture, said Uluski. These vivid stamps, a lasting tribute to 12 amazingly talented artists, will grace letters and packages sent to millions of households and businesses throughout the country.
Georgia O'Keeffe painted Out Back of Maries II in 1930, during her second summer in New Mexico, when she stayed in Alcalde as a guest at the H and M Ranch, owned by her friend Marie Tudor Garland. It represents a very small section of the landscape, which O'Keeffe isolated from the vast panorama of mountains, hills, and cliffs she saw west of the ranch. In the years that followed, OKeeffe became famous for visualizing the particularities of the New Mexico topography, color, and light. These paintings are her enduring contribution to an identifiable American modernism in the 1930s.
The masterpieces reproduced on the Modern Art in America stamps include House and Street (1931), Stuart Davis; I Saw the Figure 5 in Gold (1928), Charles Demuth; The Prodigal Son (1927), Aaron Douglas; Fog Horns (1929), Arthur Dove; Nude Descending a Staircase, No. 2 (1912), Marcel Duchamp; Painting, Number 5 (1914-15), Marsden Hartley; Sunset, Maine Coast (1919), John Marin; Razor (1924), Gerald Murphy; Black Mesa Landscape, New Mexico/Out Back of Maries II (1930), Georgia OKeefe; Noire et Blanche (1926), Man Ray; American Landscape (1930), Charles Sheeler; and Brooklyn Bridge (1919-20), Joseph Stella. Art director Derry Noyes worked on the stamp pane with designer Margaret Bauer. To learn more about the stories behind the stamps, visit beyondtheperf.com.
The Modern Art in America, 1931 1931 commemorative First-Class Mail Forever stamps are 46 cents each and are offered in panes of 12 stamps, priced at $ 5.52 per pane.
Customers may purchase the Modern Art in America, 1913 – 1931 stamps at usps.com/stamps, at 800-STAMP24 (800-782-6724) and at Post Offices nationwide. Many of this years other stamps may be viewed on Facebook at facebook.com/USPSStamps, on Twitter @USPSstamps or at beyondtheperf.com/2013-preview.
PHOTO CREDIT FOR Out Back of Maries II: Georgia OKeeffe, Black Mesa Landscape, New Mexico / Out Back of Marie's II, 1930. Oil on canvas, 24 1/4 x 36 1/4 in. Georgia O'Keeffe Museum. Gift of The Burnett Foundation. Copyright Georgia O'Keeffe Museum.
###

ABOUT THE GEORGIA OKEEFFE MUSEUM:

The Georgia O'Keeffe Museum is dedicated to the artistic legacy of Georgia O'Keeffe, to defining its ongoing significance, and to the study and interpretation of American Modernism, late 19th century to the present. The Museum's collections, historic properties, exhibitions, Research Center, publications, and education programs contribute to scholarly discourse and inspire diverse audiences. Located in Santa Fe, NM, the Museums collections, exhibits, research center, publications and education programs contribute to scholarly discourse and serve diverse audiences. The largest single repository of the artists work in the world, it is the only museum in the world dedicated to an internationally known American woman artist and is the most visited art museum in New Mexico.
Follow the Museum on social media by the following links:

Facebook: http://www.facebook.com/okmuseum

Twitter: http://twitter.com/okeeffemuseum

Pinterest: http://pinterest.com/okeeffemuseum/

Google+: https://plus.google.com/u/0/117018320810630847589/posts

Instagram: http://instaweb.me/user/221959772#.UIgy4MWx_JY

YouTube: http://www.youtube.com/user/GeorgiaOKeeffeMuseum/videos

Tumblr: http://okeeffemuseum.tumblr.com/

LinkedIn: http://www.linkedin.com/company/georgia-o'keeffe-museum

Foursquare:https://foursquare.com/v/georgia-okeeffe-museum/4b46720df964a520342126e3
ABOUT THE USPS:

A self-supporting government enterprise, the U.S. Postal Service is the only delivery service that reaches every address in the nation: 152 million residences, businesses and Post Office Boxes. The Postal Service receives no tax dollars for operating expenses and relies on the sale of postage, products and services to fund its operations. With more than 31,000 retail locations and the most frequently visited website in the federal government, usps.com, the Postal Service has annual revenue of more than $ 65 billion and delivers nearly 40 percent of the world's mail. If it were a private-sector company, the U.S. Postal Service would rank 42nd in the 2012 Fortune 500. The Postal Service has been named the Most Trusted Government Agency for seven years and the fourth Most Trusted Business in the nation by the Ponemon Institute.
Please Note: For broadcast quality video and audio, photo stills and other media resources, visit the USPS Newsroom at about.usps.com/news/welcome.htm.
For reporters interested in speaking with a regional Postal Service public relations professional, please go to about.usps.com/news/media-contacts/usps-local-media-contacts.pdf.