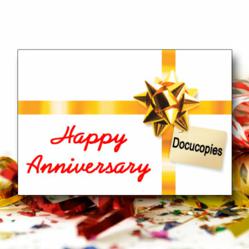 San Luis Obispo, CA (PRWEB) April 26, 2013
This month the online digital printing and color copying company Docucopies.com celebrate the first anniversary of the opening of their West Coast production center, a strategic move which expanded free one-day shipping to customers across the Golden State.
Located in sunny San Luis Obispo, the production center acts as a satellite to the nerve center back in Hudson, Wisc., and produces digital printing products like books, brochures, postcards and more for thousands of customers in the Western states.
Opening our shop in California has been great for us as well as our clients, says Vice President/Marketing Director Jeff Corbo. More West Coast customers than ever are coming to us because they can benefit from our low prices and still get their items in just a couple days.
This news was well received by customers such as Catherine in San Raphael, who left this on their Yelp! page:
"Believe me, I could not get the same quality for the price locally. From beginning to end, this process was a breeze. I can't recommend these guys enough! Docucopies ROCKS!"
The company again made headlines several months after opening their facility when they announced they would no longer collect sales tax from their California customers. Before opening the new facility, California customers never paid sales tax. But according to law, any online company with a physical presence in a state must pay sales tax from sales which are being delivered within that state.
"One of the big reasons people shop online is to avoid sales tax," says Vice President/Marketing Director Jeff Corbo. "We didn't want to throw away one of the things that makes our services so popular, so picking that up for our California customers was a no-brainer."
While the team at Docucopies stay focused on serving their customers, they also devote time and money to philanthropy and community involvement in California, the Midwest and beyond. In 2012, the company sponsored a fundraiser for the Tuolumne River Trust, a conservation project based in San Francisco, as well as donating money to two Womens Shelters in Southern California. Their long list of philanthropic partners is large and diverse, from rehabilitation centers to the Humane Society, arts-education organizations to the Minnesota Epilepsy Foundation, and more.
Corporate responsibility and philanthropy are more than just public relations buzzwords, says President/CEO David Pressley. Successful businesses have an opportunity and responsibility to be part of something bigger than themselves and really make a difference in the world, at home and abroad, and its something we do with great pride and appreciation.
For more information on Docucopies.com and their digital color printing services, including color copies, brochures, flyers, books, booklets, postcards, and more, visit them online at http://www.Docucopies.com or call 877-222-4842.
###