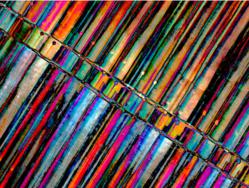 Berkeley, CA (PRWEB) March 17, 2012
The Bay Area's inkjet printing company in Berkeley, The LightRoom, helping photographers and other artists get the best prints of their images since 1975, will soon be featuring the fine art prints of Tom Rigney, artist, photographer and musician, in the LightRoom gallery from March 19 to April 20. A reception in his honor will be held at The LightRoom studio on March 31 from 1 to 4 p.m. The exhibit will feature Rigneys recent giclee prints and is his first public art exhibit in more than a decade.
I have chosen works that reveal a theme that has emerged somewhat unconsciously over the past few yearsa kind of musicality of form and color. I can see that the forms that attract me have serious rhythmic and groove components–they repeat, they flow, they crash into each other, they push and pull, they syncopate, they dance. There is tension, and there is release. Similarly, the color compositions express a variety of moods, some harmonious, some dissonant, some vibrant and joyful, some dark and mysterious, Tom Rigney said.
To create his works, Rigney took original photographs, as well as his hand-rendered art, scanned them at high resolutions into the computer and then manipulated them in various ways–subtle to radical changes–using several different software programs.
In most cases, the final work bears little, if any, resemblance to the original drawing or photograph. By using original drawings, I feel that I have been able to retain some of the chewy textures and hand gestures of traditional techniques and materials while simultaneously making use of the myriad of possibilities of computer manipulation, Rigney said.
Tom Rigney is a native Californian who has been making art his entire life. He has a Bachelors Degree from UC Santa Barbara in Art (with a dual emphasis on Fine Art and Art History) and a Masters Degree in Fine Arts from Harvard University.
For more information about Tom Rigney or his artwork, view him on the web at http://www.rigomania.com.
For more information about the upcoming exhibit or any of The LightRooms products or services, call 510-649-8111, view the company on the web at http://www.lightroom.com or visit 2263 Fifth St. in Berkeley.
About The LightRoom
The LightRoom has been providing photographers and other Bay Area artists with the best photography services since 1975. It has been offering fine art printing since the end of the last century and specializes in pigment inkjet (gicl