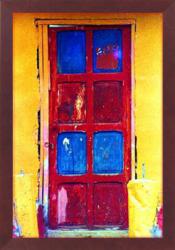 (PRWEB) February 15, 2013
With an emphasis on vibrant color, Moser works in a range of subjectsstill lifes, botanicals, landscapes and architecture. The featured work, Door in the Andes Mountains, is an excellent example of stunning color intensity in a humble setting. Moser happened on the door in a South American village called Apartaderos, 11,000 feet above sea level.
Printed on canvas, the piece is displayed here in our affordable, sleek Basics Collection. An ideal frame for canvas because its depth accommodates the bulk of a stretcher bar, the moulding has a flat face and square profile, perfect for a rustic, vibrant image. No mat or linen liner was used to avoid clashing with the images colors. The frames mahogany finish does all the work necessary to both contrast with the yellow wall and subtly echo the doors red without competing against its fiery hue. To view all of Mosers work or purchase a reproduction, visit his online gallery.
About American Frame
American Frame provides professional-quality DIY custom picture framing supplies and fine art printing services at wholesale prices direct to the consumer. Its easy web interface allows customers to design a custom frame treatment for assembly in the comfort of their homes or studios. They can also upload a digital image to be printed on canvas or fine art paper and receive framed work ready to hang. All orders are handcrafted in Maumee OH and shipped within 2 business days. Family owned and operated since 1973. Love your art. Frame it right.