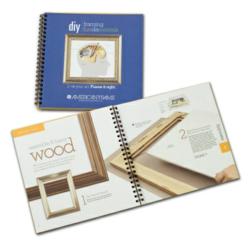 Maumee, OH (PRWEB) March 12, 2013
American Frame Corporation has won an ADDY award for its exclusive guide to custom framing DIY Framing FUNdamentals. Written and designed expressly for DIY framers, DIY Framing FUNdamentals was the brainchild of American Frames Vice President of Sales and Marketing, Laura Jajko.
I wanted to produce a book that could take anyone from framing novice to expert, Jajko says, but it had to be beautiful and fun too. It had to bow to what art is first and foremost: an inspiration. All of us who collaborated to produce the guide are thrilled to receive an ADDY.
The ADDY is awarded to outstanding promotional and informational literature by the American Advertising Federation. Winning at the local level via the Advertising Club of Toledo is the first step toward national competition.
With over seventy pages of color illustrations, DIY Framing FUNdamentals aims to simultaneously inform and inspire via a light-hearted approach to all aspects of framing, from the most technical, like measuring, to the most ineffable, such as frame style and mat color. Customers can purchase the guide at AmericanFrame.com.
About American Frame
American Frame provides professional-quality DIY custom picture framing supplies and fine art printing services at wholesale prices direct to the consumer. Its easy web interface allows customers to design a custom frame treatment for assembly in the comfort of their homes or studios. They can also upload a digital image to be printed on canvas or fine art paper and receive framed work ready to hang. All orders are handcrafted in Maumee OH and shipped within 2 business days. Family owned and operated since 1973. Love your art. Frame it right.
Find More Fine Art Digital Prints Press Releases